The first pictures of Obama'snew limousine have been unveiled this week. Nicknamed The Beastit is set to make its public appearance next Tuesday, as part of the inaugural parade.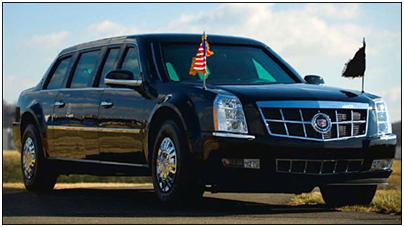 This car is said to be the most "technologically advanced protection vehicle in the world" and to be honest, it would look more at home in a James Bondfilm. What with its bullet proof glass, armoured body, separate oxygen supply, and a completely sealed interior to protect against a chemical attack, some may say its a little OTT... but wait there is more, it has a fully functional bar, disco ball and 80's themed jukebox... okay so now I'm going a little over the top. But seriously – its own oxygen supply....!?
All this aside, I really do wish Obamaand 'The Beast' all the best for his move and time in the White House.
By Jessica Greatrex