Recent PR Week reports bode well for the PR/Marcoms industry with both Huntsworth and Chime Communications posting impressive half-year profits for 2008.
Chime saw profits increase by nearly 25% on last years earnings, with Huntsworth close by at 21.9%.
Lord Bell was bullish about the next 6 months, but the pressing question remains, when will he get a new headshot?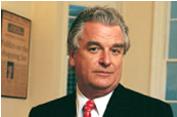 Jamie McLaughlin