There's no art to find the mind's construction in the face. (Act I Sc. IV, Macbeth)
Perhaps Shakespearewas onto something. The human face has seemingly endless possibilities for emotional influence, but does it ever truly betray what we're thinking? We can wink suggestively at potential partners, coo and grin to the delight of babies everywhere and lift the spirits of a perfect stranger with a genuine smile.
Yet, recently I have been baffled, even frightened by the bizarre array of facial expressions that are continually caught on camera from our supposed world leaders. David Miliband(in my opinion a force for good in the world) is not only the first Cabinet Minister to appear in second life, but our Foreign Secretary is also the owner of one of the most expressive faces we have ever seen! It was perhaps a bit of a cruel joke to picture him at the Tory Party Conferencebanana-in-hand but I have to admit, his endearingly passionate speeches aren't so a-peeling as still frames. (Sorry.) Similarly, with the US presidential elections looming next month, I'm concerned that Republican candidate John McCainis simply too funny-looking to step up to the challenge. Having said that, the next G8summit would be considerably more light-hearted if Poutin, Sarkozy et al could all have a bit of a giggle together.
If our faces really reveal what's going on inside our heads…double, double, toil and trouble.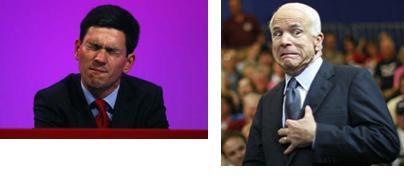 By Nikki Blemings