First Lady Michelle Obama may have uttered the line in what was considered one of the very few gaffes of the Obama presidential campaign, but last night those words rang true for me.  I watched as Barack Hussein Obama was sworn in as the 44th President of the United States, and tears came to my eyes. 
The last 8 years have been long and hard for those of us who have lived abroad.  Whether or not we supported former President Bush's policies, we had to answer for his actions every day.  To most incensed non-Americans I have encountered during my time abroad, I was responsible for the unilateral aggressive action my government had taken in the last few years.  It seemed that if s/he could express to me with enough vehemence and determination the mistakes of my government, somehow a part of the wrong would be righted. 
The sad part is that the world didn't always feel this way.  I was studying in Spain on September 11, 2001.  I remember the outpouring of support and sympathy from the international community.  And in the years since, I have seen that support crumble to anger and anti-American sentiment in a very personal way. 
But last night, the wounds healed.  Not permanently and not forever, but yesterday America proved to the world that we are a country of promise and opportunity.  That we can be as good as the promise of our ideals.  A black man, son of an immigrant, has not only said he could change the world but yesterday he did change it.  No matter what else happens in the years ahead with the economy, war on terror or climate change, we will always have that moment of hope.
America will never be the same.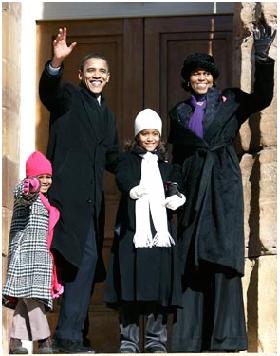 Now that is change we can believe in.
By Jenna Morton-Aiken