The coldest winter for 13 years reached new levels on Monday when the whole of London came to a standstill. Heavy snowfall on Sunday night resulted in many being stranded in Central London as Transport for London decided to halt all bus services. The situation only got worse on Monday morning with many of the tube lines being suspended or having serious delays. Taxis refused to go anywhere, suburban train services were also cancelled, and we all looked on in horror (and some amusement) as the capital city came screeching to a halt.
For those that were brave/determined/stupid enough to attempt to get into work, I have heard stories from friends about 4 ½ hour journeys, hours stuck on crowded, sweaty trains and 2 hour treks to reach their final destination, whereas 1 in 5 workers failed to make it in.
Despite warnings that the disruption could cost the economy £3bn, the overall effect of the snow was one of glee. What is it about snow that makes everyone revert childhood? Snowball fights, the building of snowmen, the making of snow angels, skiing across Clapham Common (something I never thought I'd see) – all childish activities that created a brief moment of joy in this recession. As Stuart Jefferies writes in the Guardian, "Just for a day, Londoners got hit by something special....for a day at least, Londoners returned to a forgotten innocence".
After all, there's nothing like a good snowball fight to make you forget about the horrors of the economy.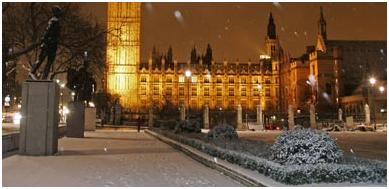 By Thea Foote